Mobile applications are a major tool to connect consumers to the wide services offered by the businesses and to update them with all the new happenings offers or latest trends started in the business.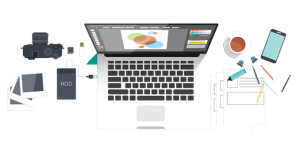 Business mobile applications can be used for different purposes such as selling products or services; keep communicating what's new is coming, various schemes and offers of businesses. The mobile app can keep your target customer engaged with your offerings and help you boost sales and revenues for your business.
Mobile applications are more efficient to bring required results for business in a way that mobiles, smartphones, tabs, and other smart devices are something that almost every person keeps with them nowadays from younger ones to old aged people and that too for almost the entire day. Hence, accessing the mobile application or checking out the notifications popped up on mobile is very convenient and easy for the customers than to check the mails or surfing the websites.
The significance of mobile applications in business has increased manifolds in the last few years. The mobile application has made it possible for the consumers or users to get any kind of information or latest updates about their favorite shopping stores available on the mobile app at any point in time and keep notifying them about the lucrative offers, festive discounts and other schemes on their preferred brands.
Seeing the benefits of mobile applications, there are a number of business units opting for web services and mobile applications to boost their business standards and business earnings. The application market has come into sight in the last few years and has updated with more advanced features from time to time to serve the users with more organized features and attractive presentations.
In India, there is a great scope and the demand for Mobile Application Development. Seeing the huge industries and business sectors of India, there are many companies initiated to offer the services of Website Development in India. Netstager, the Kerala based Web Development Company is one of the renowned and well-established companies of India offering a wide range of web services to business units to advance the business and promote their products and services in an attractive way to the customers and keep them engaged with the business websites and mobile applications.
Netstager is the company proficient in creating the most amazing business-oriented mobile applications at the most cost-effective prices. The company has a team of professionals with ample years of experience who strives to create mobile applications for their clients after a deep understanding of the business and its requirements. This is the company situated in the most developed area of Kerala that is Calicut and is using the latest technology, gadgets, and software to produce competitive and quality websites and mobile applications for their clients. Over time, Netstager has become the reputed Mobile App Developers Calicut and first choice of business entrepreneurs looking for moving their business ahead.