If you believe in staying up to date with the latest marketing and business trends to compete in the industry, then a high-quality website is what you need the most. It is only an efficient website that can help you survive in and hit the competition in the current business situation.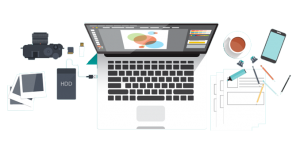 In India, website designing and development has surfaced as a prominent industry in this Avant-garde period as digital marketing has become the chief tool for the business and service organizations to get ample market and online presence and get a progression in their revenues. Within a decade, the number of websites has increased and is increasing at a faster pace than has made the market of Web development in India to initiate and evolve as a high-flying industry. Many reasons have made the website an important business tool to achieve the desired results.
With just a website link, the clients or customers can personally recommend the products, services or offers to others and hence helps greatly in promoting and branding of your business.
The foremost thing about the website is that it is available to the customers every time they want to visit. A website can be accessed from anywhere in the world at any point in time and the user can access any preferred information about the company all through the day.
A website is a tool that enhances the credibility of your business by offering communication with prospective customers, giving them a platform to write their reviews, give feedback and ratings.
It helps in providing ample information and specifications about the products along with photographs to leave no room for customers to imagine the product and hence build confidence among the potential customers to make a purchase. This way it helps the business in boosting their sales, generating leads for the business and advance recognition of the organization in the competitive market.
In this era of internet and smartphones, the Website is a one easily accessible platform that allows customers convenience and comfort to buy products or books for services.
There are business organizations that assert to promote their business from word of mouth but are lacking the trust, credibility, and opportunities for their business to flourish and grow.  A website itself is sufficient enough in carrying out different marketing strategies to help your business nurture.
Currently, many companies are dealing with Software Development in India and offering web designing and web development services to the business entrepreneurs of a small scale to larger organizations. In the southern region of India, Netstager is the company offering Website development in Kerala with paramount web products that can help the business touch the heights the business entrepreneurs aspire for. This web design company is located in the largest urban town of Kerala, Calicut and is offering a wide range of web services including website designing, SEO, customer application development, mobile application development, e-commerce development, social media marketing, Google ad words, Google cloud partner and many others. The company is serving as a one-stop-shop to fulfill all your web marketing requirements.
Get a terrific deal by contacting the team at +91 844 844 0112.