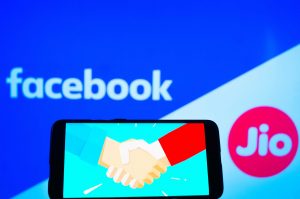 Last week we all heard about Facebook becoming the largest minority shareholder in Jio Platforms is one of the hottest news for the Indian folks. For the record, it's say's that the focus of these two giant's might be the retail sector. The retail sector is a very difficult terrain and a lot of its parts are still unorganized. In recent years the retail sector has been a war field for behemoths like Amazon, Wallmart and other payment services companies like Softbank, Alibaba-backed Paytm and Google's Google pay.
The investment from Facebook benefits both the companies and the nation. As per the records, there are 400 million users for Facebook's WhatsApp messaging service in India, which is the biggest market for Facebook and currently, they are waiting for the approval of its payment solution. Jio is the leading telecom brand in India and Jio recently launched its e-commerce marketplace which seeks to connect local retailers with consumers.
Facebook and Jio are trying to accelerate the business on the JioMart platform using WhatsApp.This combination of Facebook and Reliance will be difficult to beat even for global dominant players like Amazon and Wallmart.
This investment brings together the world's largest Social Media company the Facebook and the leader in everything from oil to data lead the Reliance Jio group is considered as a win-win deal for both players.
Facebook investments in India
2014 – Little Eye Labs: Facebook's Investment with Little Eyen Labs a Bangalore based startup company was a part of the company's push towards a more user-friendly mobile environment and experience.
2016 – Byju's: As a part of an initiative program from Chan-Zuckerberg, Facebook makes an investment in Indian education technology company Byju's.
2019 – Meesho: Facebook's first investment in a domestic startup, facilitating entrepreneurship among women in small towns.
2019 – Incubator program: With the help of VC funds, Facebook launched the VC Brand Incubator Program which aims to help the mentor SMB.
2020 – Unacademy: Facebook made an investment in the online learning and transformation space Unacademy.
Written by,
Nikhil Augustine 
Digital Marketing– SEO Executive 
Netstager Technologies Pvt. Ltd.